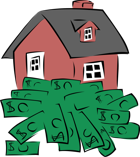 Real estate transactions involve a trade -- houses for money. We know the house is there, but what about financing? There are several factors that impact the money issue:
 Has the buyer been pre-qualified or pre-approved by a lender? Meeting with a lender before looking at homes does not usually guarantee that financing is absolutely, unquestionably available -- a loan application can be declined because of appraisal problems, title issues, survey findings, and other reasons.
However, buyers who are "pre-qualified" or "pre-approved" (these terms do not have a standard meaning around the country) at least have some idea of their ability to finance a home and know that they are likely to qualify for certain loan programs.
 The result is that pre-qualified buyers represent less risk to owners than a purchaser who has never met with a lender. If the seller accepts an offer from a buyer with unknown financial strength, it's possible that the transaction could fail because the buyer can't get a loan. Meanwhile, the owner may have lost the opportunity to sell to a qualified buyer.
 The lower the interest rate, the larger the pool of potential buyers. More buyers equal more potential demand, good news for sellers.
Alternatively, high rates or even rising rates may drive buyers from the marketplace -- and that's not good for anyone.
 It used to be that down payments were a major financing hurdle -- but not anymore. For those with good credit, loans with 5 percent down or less are now widely available. In fact, 100 percent financing, mortgages with nothing down, are now being made by conventional lenders. Reduced down payment. 
Contact us NOW at Atlanta Home Connections, we  can help and there is no cost to you!